Evictions & COVID 19 – Where Are We Now?
Evictions & COVID 19 – Where Are We Now?
Evictions During and After a Global Pandemic
The coronavirus has hit many people hard, not only with a disease itself, but with the shutdown to the economy mandated with the intentions of keeping everybody safe. Some workers were able to transition easily to a "work from home" environment. Many that either lost jobs or had hours significantly cut due to the shutdown have struggled to find replacement employment. As stimulus money and unemployment benefits dry up, paying rent has become a serious issue for many tenants.
In North Carolina, the Governor's three-week moratorium ended in late June. The Federal CARES Act covered tenants of certain federally financed properties. Federal eviction protections expired in late July, which allowed for some evictions to take place. In NC, the Governor ordered missing June rent not be considered in eviction cases, as well.
At the beginning of September, the CDC used its public health authority to halt evictions to limit the spread of COVID-19. The motivation is to stop the spread of the virus by keeping people out of homelessness or overcrowded housing while using other mitigation strategies such as social distancing, masks, and isolating sick patients.
The federal moratorium goes far beyond the patchwork of local and state orders, many of which have already expired. Advocates say it will simply delay evictions, not prevent them.
The order, which runs through the end of the 2020, leaves significant questions about its enforcement and efficacy. Both landlords and tenant advocates in North Carolina warn that without substantial government rent relief, this temporary halt will delay but not prevent mass evictions and displacement, and leave landlords with a massive hole.
Tenants are not automatically protected by the new CDC order. They must sign and give to their landlord a legally binding declaration attesting to their financial status and inability to pay rent.
Qualified renters must have been eligible for the $1,200 stimulus checks issued under the CARES Act, or make less than $99,000 a year per person or up to $198,000 for a couple filing jointly. Renters also qualify if they didn't have to file taxes in 2019.
Tenants must be unable to pay rent because of a significant loss of income due to the pandemic or significant medical expenses. They must affirm they've made an effort to seek rental assistance, unemployment benefits or other aid.
Tenants must also show that they would be forced to move into a crowded living situation if they were evicted, such as living in close quarters with a family member or in a homeless shelter.
The tenant should fully understand what they're signing because they are signing an affidavit under penalty of perjury.
Evictions for reasons other than nonpayment of rent may proceed under the moratorium.
Attorneys who work with evictions cases say the order is likely to be challenged legally, including over whether the CDC has the authority to issue such an order. Landlords who violate the order can face criminal prosecution or up to $250,000 in fines.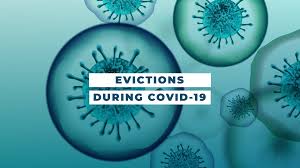 Enforcement will be handled by local judges and magistrates, but until a particular defendant or tenant presents that affidavit to their landlord, there isn't anything to enforce. If a magistrate unlawfully grants an eviction during the moratorium, the tenant can use the normal appeals process. Criminal prosecution of landlords attempting to illegally evict tenants will be handled by local law enforcement and district attorneys.
While the moratorium was praised by those warning of mass evictions, many say it's not enough. May believe, without substantial, direct rental assistance to landlords, is just a temporary fix.
While no family should be homeless, there are apartment communities and landlords that don't have the bandwidth to withstand rolling, multiple nonpayments over months and months of time. At some point, bankruptcies are going to ensue.
Some supporters of the moratorium called for federal- or state-funded rental assistance paid directly to the landlord so that tenants can stay in their housing. A comprehensive solution needs to address both sides of the issue to protect the greater economy and stability of the rental market.
Congress has yet to pass another stimulus bill, but within the Act, more relief for tenants and/or landlords may be a possibility.
Written By Laura Grant – Property Manager & Realtor at MY Townhome Realty
Getting the best return
from your home?
Contact us to receive a free
rental rate analysis today.
JUST A FEW OF THE SERVICES
WE PROVIDE ARE:
Professional marketing with virtual tour technology
1 on 1 tenant home tours at your property
Monthly & year end accounting of owner accounts
No pre-paid marketing fees
24/7 Maintenance services & dispatch
Tenant background checks including credit, employment, criminal and national eviction research